Day 2 started off late, with me scrambling around the house for several hours Friday morning finishing chores. In the end, I made it into Paris around 2:30pm to rush into Hood By Air - which ended up being my first and only show of the day.
For the show, HBA rented out what seemed to be a men's Parisian bath house - it was completely dark inside, and all the attendees were lined up in the hallway while the models walked around, occasionally pausing in doorways to pose for photos. Blasting from the speakers was music from HBA Shayne Oliver's musical collaboration with Arca: Wench.
At first I hated the set up, but I think in the end the photos turned out a lot more interesting than your typical runway set-up. Unfortunately because I got there so late, I didn't get a lot of good shots. Still, I was impressed with the HBA collection and I appreciated the HBA arm slings as a new expansion of what accounts for fashion. (Stay tuned, everyone, for Third Kind hand wraps...)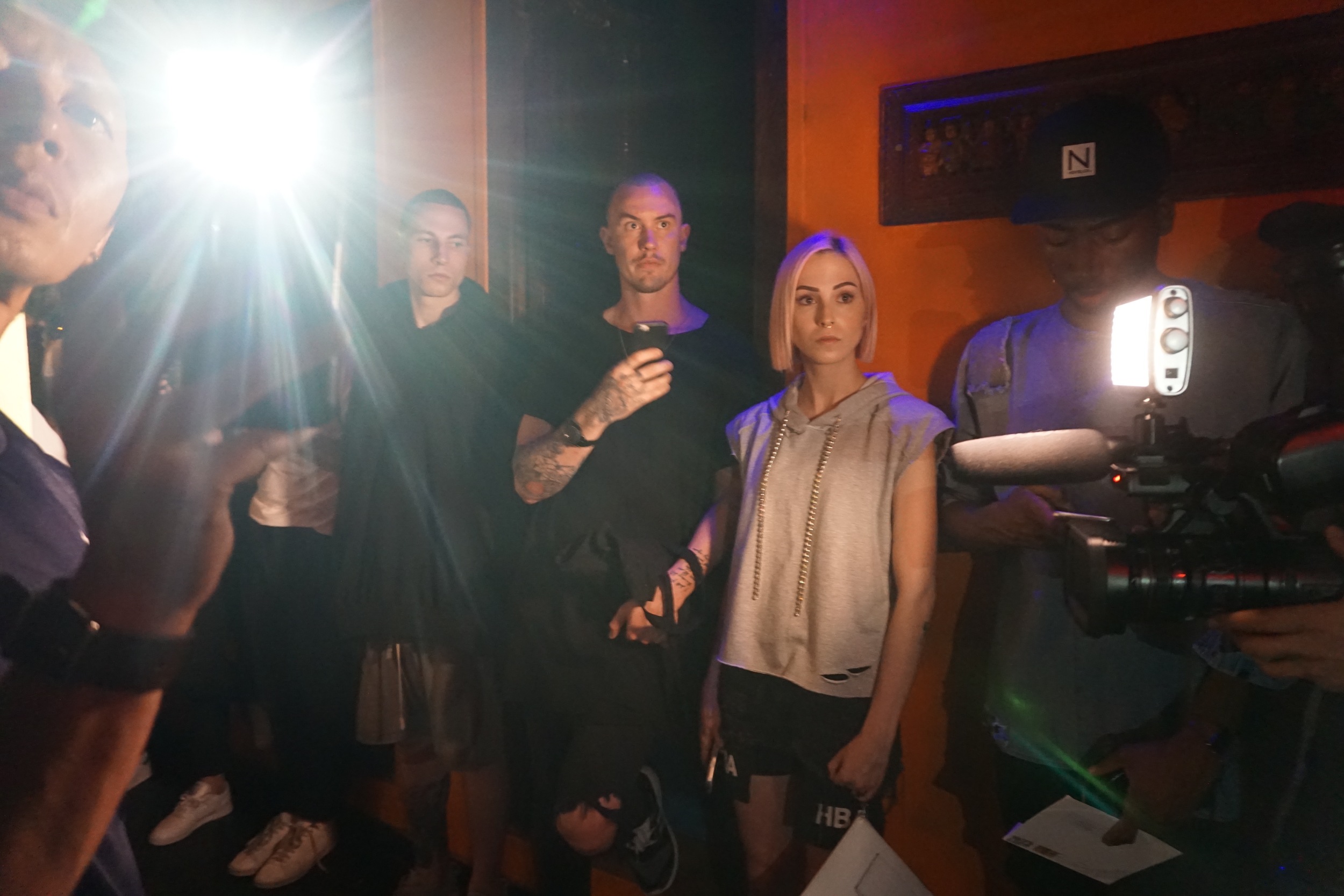 Although Shayne Oliver has said the show was focused on a 'healing' vibe, I got more of a 'straightjacket' feel at times, especially with the floor-length one pieces on the men, which featured heavy and wide horizontal stripes. The stripes are similar to what we saw from HBA last year, so I wasn't really digging that.
Next, the fashion week squad and I (A, A, and A-….) went to check out the Life of Pablo pop up shop that Yeezy announced the day before. I was pretty hype about this, as I've been hunting for Pablo merchandise since Madison Square Garden.
The pop up store was set up in a nondescript location in Paris 11e, with the doors completely blacked out and security guards in matching black suits out front. It was perfect. I decided to commit and headed for the line - A and A wanted to go to additional shows, but I was pretty tired as it was.
The timing was perfect, as I happened to be in line with a group of lovely girls - two from Berkeley, and one Parisian studying in London. The time actually passed by pretty quickly between the four of us, and when we finally made it in, I can't say I was too disappointed! I picked up a MSG blue hoodie, 2 red "Ultra Light Beam" t-shirts (one for myself, one for Am-), and one in blue.
Saturday was again exhausting, and the only show I made it to was wooyoungmi, in Paris 9e.
It was another 'traditional' runway setup, with an older crowd to mirror the more refined, traditional luxury brand. The collection was very heavy on lines and strong geometric patterns. The models also highlighted contrasting fabrics, with a lot of soft textures like silk against heavy cotton and wool. It wasn't my favorite show, and definitely not my style.
Next up: Solidays summer festival thrown right into the middle of fashion week!
Happy and exhausted,
- A